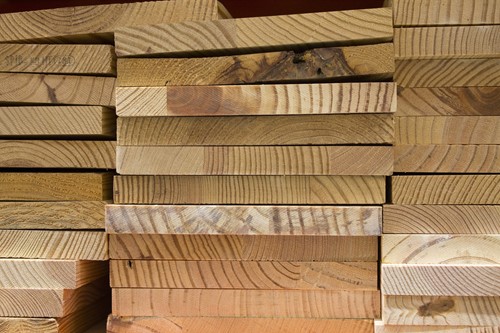 Many homeowners choose pressure-treated pine to build decks based on its price and longevity. While the material ranks as the undisputed go-to lumber for decks and patios, it may not be a perfect fit for every homeowner. That's largely because pressure-treated pine brings a few negatives to the table.
About Pressure-Treated Lumber
Originally, pressure-treated lumber used to contain a tiny amount of arsenic added to deter insects such as carpenter ants and termites. More modern decking material no longer contains arsenic but may include a mix of chromium, copper, and other chemicals. Using pressure-treated pine means coming into contact with chemicals.
Beyond health and wellness concerns, pressure-treated material can be subpar in appearance. The boards often arrive moist and have a tendency to shrink during the drying process, which leaves inconsistent spacing between planks. The damp lumber takes months to dry, and that aspect postpones a homeowner's ability to stain or paint a deck and patio. It's not uncommon for many people to embrace the graying deck rather than wait it out.
Alternatives to Consider
Those are reasons property owners looking to invest in an attractive deck or patio may want to consider alternatives to pressure-treated lumber. The following options can help you build an aesthetically pleasing and long-lasting outdoor asset.
Tigerwood: For those that consider a new patio or deck a valuable investment, tigerwood ranks among the more awe-inspiring materials on the market today. The exotic South American material presents different colorations, grains, and densities. The cost of a tigerwood deck can be substantial as it is considered a luxury material.

Redwood or Cedar: Grouping these types of lumber together may make sense because of availability. Redwood is generally more readily available in the Western U.S., while cedar is prevalent in the East. That being said, both gorgeous natural wood materials offer rich color and stand up to the elements well. The planks usually come kiln-dried which allows homeowners or contractors to apply treatments and stains right away.
Concrete: Improvements in technology have made it possible to transform concrete into one of the more creative and good-looking surfaces. Concrete can be infused with exciting colors, polished to a fine sheen and coated with products that make it glow. Aside from the expense of manicuring the material, concrete ranks among the most cost-effective and long-lasting options.
Bamboo: In most cases, bamboo decking is either a composite product or comprised of laminated strips of the hardwood. Considered a durable and insect-resistant option, bamboo decking offers homeowners a deep red luster. Like other harder-to-find options, the cost may exceed pressure-treated pine.
Composites: Many composite products blend wood, plastic and other commercially generated materials. These materials deter pests, stand up to severe weather and have considerable longevity. The popularity of composites prompted the industry to create new and interesting textures, colors, and patterns in recent years. Along with wide-reaching product choices, homeowners need only sweep and occasionally wash low-maintenance composite decks.

Decks and patios remain a key element to the peaceful enjoyment of your property. Homeowners who invest in decks and patios typically earn a huge return in terms of resale value. Selecting high-quality and luxury materials can also make your property increasingly attractive. That's why it may be worthwhile to explore alternatives to common pressure-treated pine.